Posted on December 4, 2013
Happy days at Hard Working Movies HQ, as it's just been announced that Jeremiah Zagar's "CAPTIVATED" is selected as part of the US Documentary Competition lineup at Sundance 2014!
Posted on November 25, 2013
Our friend Marlon Cole has been fighting for years for the release of his father, Valance, whose case is being handled by people at the Exoneration Initiative. A fascinating story that was swept under the rug for many years finally has some airing at New York Magazine , article written by another friend of ours, Noreen O'Donnell. 
Posted on October 29, 2013
Posted on October 21, 2013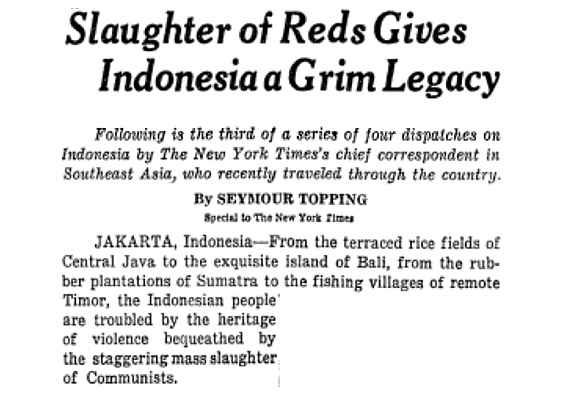 A lot of our current projects here at HWM deal in different ways with memory and its relationship to the past, and one of our favorite films this year (and not only ours – Indiewire recently and already named it the best doc of 2013 through their critics roundup) treads in similar waters – Joshua Oppenheimer's "The Act of Killing" (which still plays in cities across the country, btw, see it if you haven't!). Errol Morris wrote a lengthy and fascinating piece about the film in Slate several months ago, in which he recalls our filmmaker friend Lesley Topping's dad Seymour Topping, the chief Southeast Asia correspondent for the New York Times at the time. Speaking of the past…
It's a great piece to read – check it out!
Posted on October 3, 2013
This Friday, October 4th, the International March for Elephants will be taking place in 14 cities across the globe. We'll have crews in some of the cities filming the events for our upcoming documentary  "Walking Thunder", directed by award-winning photographers and filmmakers Cyril Christo and Marie Wilkinson (expected release date late 2014). We're looking for people in the following cities to send video footage documenting this unprecedented and critically important event, for possible inclusion in the documentary. You can shoot it on your cellphone (hold it horizontally, please!) or a professional camera – we're looking to capture both the grandiosity of the events, as well as small-scale moments, including your own experiences. Your footage can be as long as the march or even just a short meaningful moment.
If your footage is selected for the documentary, we'll email you a still photo from Cyril and Marie from their latest trip to Africa and you'll be acknowledged in the credits as additional camera for this event.
If you have footage to share or have any questions before filming, please email us at elephants(at)hardworkingmovies.com, and we can send more details including how to get it to us. You can learn more about the march here.  For those of you in New York City, Cyril will be speaking at the United Nations Plaza after the march.
We welcome footage from any of the following cities:
Arusha
Bangkok
Buenos Aires
Cape Town
Edinburgh
London
Los Angeles
Melbourne
Munich
NYC
Rome
Toronto
Washington DC
Wellington
Posted on October 2, 2013
A photo of Jon Foy, the composer for our upcoming "112 Weddings", during the recording session last week.
Posted on September 12, 2013
"Walking Thunder", the film we're working on with renowned photographers Cyril Christo and Marie Wilkinson and co-EP'ed by Wendy Blackstone is part of IFP's Spotlight on Documentaries at this year's Filmmaker Conference. If you have a conference badge, stop by our screening, say hello and meet the directors on Monday, September 16th at 3:30pm at Lincoln Center, Furman Gallery of the Eleanor Bunin Film Center, 165 West 65th Street.
« Earlier Posts